ECS Performance is one of the most experienced Cobb tuners out there. We've been granted access to features through Cobb that most other tuning shops have because of our experience level. This means we can write you the best custom tune possible for your car with whatever mods you may have on it. 
For basic stock or bolt on cars we charge $600 to write you a custom tune. If your car has a more extreme level of modifications (flex fuel, nitrous, etc) we charge $600 for the tuning. 
If you'd like to make an appointment to get your car tuned, please start by purchasing our dyno tune deposit and filling out our dyno waiver. Once you do those we'll call you to setup a day. Thank you!
https://ecs-performance.com/store/dyno-tune-deposit/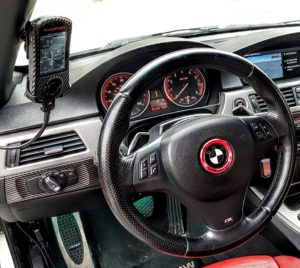 If you're BMW isn't supported by Cobb we will tune your car utilizing a "Flash Protocol" and a DimSport My Genius handheld.  With these we can tune anything from a bone stock car to a fully built race car!
If you'd like to get a quote on a custom tune for your BMW, please call us at 860-758-7644 and speak to someone on our sales team. They'll get you any information you may need about tuning your car.